Remarks by Joseph O'Connor at presentation of Irish PEN Award, Friday 10th February, Royal St George Yacht Club, Dun Laoghaire, Dublin.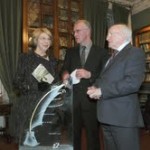 "A Úachtaráin, agus a chairde,
I sincerely thank President Higgins for the warmth and encouragement of his words, and for the honour he does us by his presence here this evening. I know I'm far from alone when I say that in a troubled time for so many of us, for our families and our loved ones, it has been a source of hope that we can elect as President of our republic a fellow citizen who inspires such genuine respect and affection, a voice all his public life to those who were powerless, a President in whom we see the values of imagination and intellect that still make Ireland a special place. We are proud of you, President, proud of your integrity, and deeply proud that you are one of us, an Irish writer.
It's a wonderful honour to win this award. My eleven-year-old son James told me once, when he won a prize at school, that the nicest thing about getting a prize is remembering it some time afterwards, maybe on a rainy day when you need a bit of cheering up. He sounds like an Irish writer already. But since every writer needs a little cheering up from time to time, let me thank PEN sincerely for their generosity to me this evening. I also thank my heroic parents Sean and Viola, my dear sister Eimear O'Connor, my agent Carole Blake, my publisher Liz Foley, and the love of my life, Anne-Marie Casey, who is, to quote that great poet Austin Clarke, the beautiful Sunday of every week. Another gift every writer needs is the ability to tell if writing is truthful or fake.  My guide in these matters is the late Tommy Cooper, who used to tell a wonderful and wise joke: "I went up to the attic this morning and guess what I found. An old painting and a violin. I took them to the antique dealer and do you know what he said? That's a genuine Stradivarius and a genuine Picasso! Unfortunately, however, Stradivarius did the painting. And Picasso made the flipping violin."
To be serious, I am deeply touched and honoured to win any award that was won in its time by some of my boyhood heroes in writing: John McGahern and William Trevor, Edna O'Brien and John B Keane. I owe them so very much, and I thank their great presences. They were writers who understood that all writing is about the reader, and that empathy is at the heart of the story and the word. A writer makes the sheet music, but the reader sings the song. And so to be given this award by Irish PEN, part of a wonderful organisation that campaigns for writers all over the world, is to be reminded of the undying value at the heart of great literature. We read to know we are not alone. To realise that another human being is real. For knowledge, for enlightenment, to escape, to come home, and for that most subversive of all reasons, pleasure. And we read to know we are not doomed to live in the tomb of the self, to the grubbing of individualism, to the lies of materialism, to know that a country's greatest asset is not the one referred to in the initials of 'NAMA' but in the capacity of its people to create and imagine.
We're gathered tonight in my childhood town of Dun Laoghaire, by the pier where myself and my sisters and brother spent so many summertime hours when I was the age that my son is now. I was a boy in love with reading, full of wild hopes that I might one day write a book of my own. I'd look out at the ships and imagine the people on board. Where were they going? Who did they love?
Every writer knows that trying to write is trying to make a ship sail. You work hard on the planning and the building and the finishing. You freight your story with your hopes. You push it into the water. Some day, maybe, it will reach the harbour of another person. Tonight, thanks to you at Irish PEN, I feel one of my boyhood ships came home.
My favourite Irish writer, the great John Synge, often walked that waterfront outside, his head full of fire and jet-streams of language. As a boy, I felt his ghost around me, among the gulls and the breezes, and the promises of Teddy's ice-cream. I finish with my deepest gratitude, and with a line written by a man who loved him, William Yeats, which sums up everything I would want to say on the occasion of winning this award. "Think where man's glory most begins and ends./ And say my glory was I had such friends."
Go raibh maith agaibh."
I am linking here President Michael D. Higgin's speech  for reference ,  http://www.irishpen.com/wordpress/2012/02/14/remarks-by-president-michael-d-higgins-at-the-presentation-of-the-irish-pen-award-for-literature-to-joseph-o%E2%80%99connor/
Pictures : http://www.irishpen.com/wordpress/the-irish-pen-2012-award-and-dinner-a-photo-montage/